Waking up, brushing our teeth, heading for a shower and then sneaking in some breakfast before rushing to the office – our routines are so ingrained in us that we usually function on auto-pilot while going about our daily tasks. However, we all have certain behaviours and actions unique to us that we are prone to doing, like biting our nails, reading before going to sleep or the specific times at which we sleep and get up. These behaviours and actions seem ordinary to us – however, these are habits that have formed over time and define the way we live, work, and think.
We all develop these routine actions for the ease of living. Some are automatic, whereas some are forced upon us. Habits are efficient and help us navigate the world better and establish our objectives faster. But we also struggle with breaking bad habits, or creating new ones – as is evident by many failed new year's resolutions. While most of us intend to develop a better lifestyle for ourselves, the actual process of doing so can be daunting and challenging. Understanding what habits are, how and why they are formed can help us dismantle our inhibitions, and develop sustainable healthy habits sooner.
The word habit is oh-so familiar. Since childhood, we have been taught to develop healthy habits – going to bed on time, brushing your teeth twice a day and making your bed. We have been taught to incorporate specific actions in our daily routine since such an early age that later, they become second nature to us and we feel strange about not following them. This might be to either instil certain habits considered beneficial or rewrite the ones we were used to doing (like biting nails) or had acquired from our parents. As kids, we have been forced to follow these actions right from the moment we get up (remember your mum scolding you to make your bed?), that learning to develop these habits becomes a part of our being.
What is a Habit?
In clinical terms, habits are automatic, repetitive responses learnt by an organism for the ease of living. As we face a certain similar situation repeatedly, our response to it when encountered becomes fairly automatic. A habit is a settled tendency or an acquired mode of behaviour that has become either partially or entirely involuntary. Habitual behaviours are usually unnoticed by those engaging in it.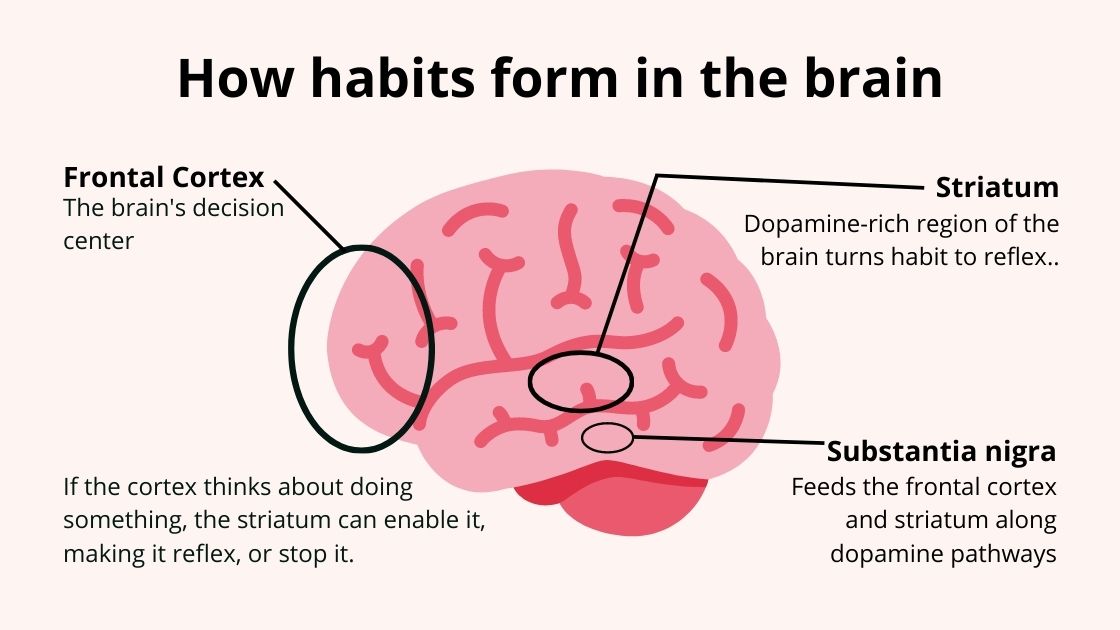 Habits are nothing but thoughts that on repetition, manifest themselves as habits. Every habit is formed to achieve a particular goal. While the routine that sets in doesn't necessarily involve any active thinking, the initial motive to achieve the goal causes a thought which translates into behaviour. If this behaviour satisfies the objective, and the same goal is to be satisfied regularly – the action becomes a habit.
Humans form habits based on what they are exposed to. For example, until a few months ago, going out of the house meant carrying your phone, keys and a wallet. Now, half a year into a global pandemic, wearing a mask and carrying a sanitiser before stepping out has become second nature. Our circumstances act as the stimuli based on which a habit is formed – whether it is the fear of a parent's scolding or a deadly virus.
Neuroscientists have identified a part of the brain known as the basal ganglia that is crucial to habit formation. Performing a particular action repeatedly as a response to a specific stimulus forms a neural path in our brain. Over time, this neural path gets physically wired in the brain and never goes away. This makes an old habit hard to break, and a new one hard to form.
Ever wondered why you get the best ideas while showering or washing dishes? It is because the neural path hardwired in your brain allows you to concentrate on other things. The thinking part of our brain is free to explore new ideas, revisit older contemplations and focus on something other than the action being performed.
However, on the flipside – the brain can't differentiate between good and bad habits.
The mask has emerged as the most effective defence against respiratory diseases and pollution this year. But to keep our faces shrouded under a protective layer for long hours has meant the rise of a new set of problems – pimples, rashes and irritation on our facial...
The Loop of Habit Formation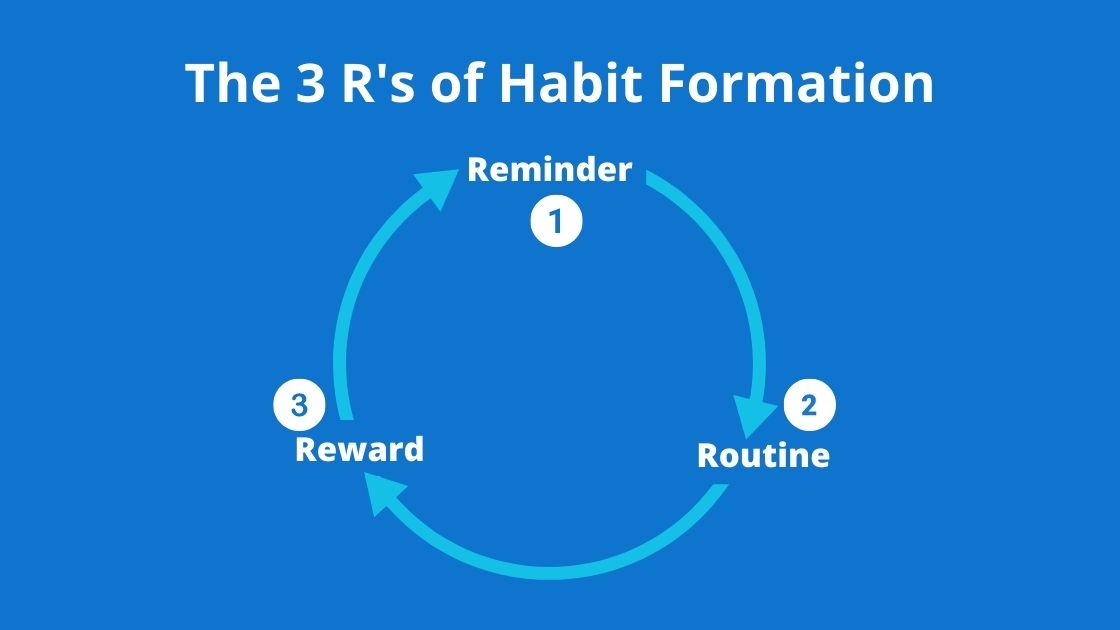 Habit formation is simplified into a continuous circle comprising 3 stages – reminder, routine, and reward or repercussion. The reminder is the cue or external stimulus that triggers the behaviour. The routine is the action or habit itself that gets continuously repeated. The reward or repercussion is the result of the act itself.
This loop forms the basis of building habits. Humans are still primarily controlled by rewards and repercussions. A positive result will cause repetition, which leads to the development of a pattern. However, this positive result is only an immediate feel-good factor. Ultimately, both good and bad habits are formed based on the reward.
Unhealthy habits like smoking or drinking might temporarily reduce stress but can have severe ill-effects on one's health. The brain, however, does not register these long-term ill-effects.
The good news is that while habits are hard to break or form, anything can be done with hard work and perseverance. We are not innately born with habits, and changing patterns is not impossible. Understanding what one craves is essential to breaking and forming the loop. For example, smokers crave relaxation and calmness. Identifying the craving itself can help shift to a healthier option – meditation and exercise, helping one form a new healthy habit while breaking a bad one. If you scrutinise your bad habits as well, you can identify the rewards you crave. Understanding the craving allows you to choose healthier alternatives, paving the (neural) path for a good habit.
To Sum It Up:
Humans are creatures of habit. Breaking bad habits, or forming new ones, can be a complicated and challenging process. It is essential to understand the base desire behind a habit formation to build a better lifestyle. If you find yourself trapped in harmful habits, do not shy away from asking for help. Acknowledging and accepting the problem is the first step to the solution. Consult an expert medical professional from the comfort of your home on DocVita: www.docvita.com